U 15 ECB National 20/20 KO last 32 tie– Cleethorpes v York
Sun 23rd July 10.30 start
York 150-2 Cleethorpes 97 all out
York found out who their opponents were on Wed 19th July and frantic negotiations took place re a start time. Due to other matches in the afternoon an early start was the only option which meant a very early start for all concerned and a trip to the sunny seaside!, not ideal –but we got the game completed as the afternoon games were abandoned due to rain. Batting first on an overcast morning and following heavy rain on Saturday which had dampened the outfield York made a steady start reaching 10 before Josh Wood (who had flown back from his holiday Villa to play) was caught down the leg side for 0, this brought Finlay Bean to the wicket. Both the Cleethorpes bowlers bowled a good line and length and with a tight circle runs were hard to come by against the swinging pink ball. York had reached 40 in the 7th when Charlie Robinson was bowled for 11, the game being evenly poised at this point as Tom Nicholson reached the wicket. York were tied down a little by the tight bowling and close field and were 57-2 at 10 overs, but a change of tactic from Finlay Bean who decided to hit over the top gave York some breathing space and taken together with the fine running between the wicket from both Tom and Finlay the shackles came off and the fielders eventually scattered. Finlay Bean making a much-deserved 52* laced with 7 fours. This then brought Matty Roberts to the crease and together with Tom Nicholson they upped the scoring rate both batting through to the end taking the score to 150-2 with Tom on 46* and Matty on 22* York were also aided by the addition of 20 extras. A good batting effort by the York lads on a dampish track and slow outfield. York's bowlers then set about the task of defending the score but struggled to control the new pink ball from one end but the batters struggled to capitalize and break the field. Olly Tomalin claimed the first wicket in his 2nd over and the tight fielding then led to a fine stop and pick up by Tom Nicholson to run out the other opener leaving Cleethorpes at 19-2 off 5, but the batters then set about repairing the damage and kept the scoreboard ticking over and after 10 were 42-2 with York firmly in the driving seat. Olly Tomalin bowling his overs from the off ending with figures of 4-1-8-1. Cleethorpes had no option but to up the ante and Ben Barnett was targeted by the batters but at the other end Harvey Gratian was much harder to hit due to the slowness of the wicket- thus putting Cleethorpes further behind the run rate. Harvey finishing with figures of 4-0-16-1 Tom Nicholson entered the attack and bowled to the keepers gloves and despite a few lusty blows against him Tom kept his nerve to bowl the no' 4 batter and put the game firmly back in York hands. From here on the Cleethorpes batters struggled to adapt to the tight bowling lines with Josh Wood taking 4 wickets for 3 runs in 1.1 overs (and he could at least fly back to his Villa with a smile on his face), Sam Backhouse also picked up a wicket. Overall it was a fine team performance by all concerned –North East winners and thus setting up a home tie at the North of England finals day v Ockbrook & Borrowash from Derbyshire on Wed 2nd August in the first semi-final. A home game at last!! Final thanks to Cleethorpes for your kind hospitality and for arranging the game at short notice and to the York parents for being able to get your kids out of bed so early on a Sunday morning!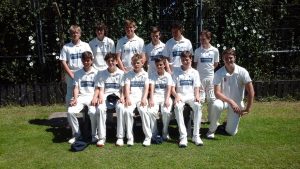 U15's– Yorkshire Cup finals day at Hunslet Nelson CC
Sun 18th June
York U15's were duly crowned County Champions after playing back to back matches on the hottest day of the year at Hunslet Nelson CC, firstly beating Hull Zingari in the semi-final and then defeating Doncaster in the final in sweltering heat.
York 138-7.   Hull Zingari  61 all out
York were invited to bat in the semi-final by Hull Zingari and were given a good platform by both Josh Wood and Charlie Robinson progressing to 38 before Charlie Robinson was bowled for 13. Matty Roberts joined Josh and they took the score to 52 before Josh was bowled for 20. Harvey Gration joined Matty and with the slower bowlers on runs dried up a little with little bounce or pace in the wicket. Harvey Gration quickly adapted his game to push singles and keep the scoreboard ticking over. The score had reached 92 in the 15th over before Matty was out for 14. York then upped the pace with Harvey content to knock singles and let others play big shots with 46 coming from the last 5 overs thanks to Sam backhouse, Olly Tomalin, Elliot Watson, Joe Bates and Dan Raubitschek who played the shot of the match through the covers. York ended on 138-7 from their 20 and were also helped by 31 extras given away by the Zingari bowlers.
York started strongly with Sam Backhouse bowling both openers inside the first 5 overs and Olly Tomalin taking the third wicket in the sixth over with a well-judged caught and bowled leaving Doncaster at 18-3 from six overs.  The score then progressed to 41 before the next wicket fell in the tenth over to Josh Wood. Thereafter wickets fell at regular intervals and were shared by Joe Bates with three from two overs and Dan Raubitschek also with three from two. The only bowler to miss out on a wicket was Harvey Gration. Hull Zingari bowled out for 61 in the 18th over. A very good display in the field in the sweltering heat and the final next up after a tea interval where plenty of fluids where needed.
York v Doncaster Yorkshire U15 cup final
York 133-6.  Doncaster 72 all out
The final started at 5.00 and still the heat was intense, winning the toss York elected to bat knowing that the wicket was becoming slower and slower with less and less bounce and they again were given another fine start by Josh Wood and Charlie Robinson adding 69 in 10 at drinks. The drinks break seemed to galvanise Doncaster as both the bowling and fielding became tighter and the York batters suddenly found scoring much more difficult. Josh Wood was first out for a solid 40 adjudged lbw. Charlie Robinson soon followed for a fine 39 laced with eight fours leaving York at 91-2 from 15 with still some work to do to set a reasonable target. Matty Roberts 12, Harvey Gration 9, Sam Backhouse 13 from 6 balls, Olly Tomalin 6, Elliot Watson 4 and Joe Bates 1 helped York add 42 in the last five overs to set Doncaster 134 to win in 20 overs.
York started very strongly again with both Olly Tomalin and Sam Backhouse bowling out their four overs due to the heat. Both bowled a full and tight length taking two wickets apiece leaving the game almost over after eight overs with Doncaster at 20-4. Sam ending with figures of 2 for 9 from 4 and Olly with 2 for 5 off 4.  York then rotated the bowling around and further wickets being taken by Toby Search with two,  Dan Raubitschek- two and Joe Bates- one. Doncaster bowled out for 72 in 17 overs.
Overall it was a fine allround performance by all in the sweltering heat taking into account they had to play back to back matches.
Grateful thanks to Corby Doeg for acting as 12th man, your team mates do appreciate that, as do both Doc and myself. Thanks both to Alex Wood and Mark Burn for scoring and to all our supporters and Doc for keeping the lads refuelled with his expert advice- which he did not follow himself-substituting water for lager!!
Finally thanks to Hunslet Nelson CC for hosting finals day and providing great teas for all the lads and plentiful drinks whenever needed. Your hospitably was greatly appreciated by all.