York Vs SHB – Rudgate League Knockout
York progressed through to the quarter-finals of the Rudgate Brewery Cup with victory over Sheriff Hutton Bridge by four wickets at Shipton Road. In a repeat of the previous Sunday's Hunters T20 Blast contest the hosts proved too strong for the visitors with Tom Pringle and Matthew Waite producing the defining performances with ball then bat respectively.
Unlike last Sunday the competition allowed for the inclusion of both Yorkshire contracted and overseas players meaning both Waite and Kyle Brockley could feature for the hosts and Karl Carver could feature for the visitors, however Australian pace man Sam Rainbird was forced to miss out due to an issue with his registration. Regular opener Adam Fisher was also missing from the 'Bridge side which meant Jack Hugill opened the innings with Mark Fisher after they chose to bat first. The latter struck consecutive boundaries off Brockley in the third over before being superbly caught, the bowler instinctively throwing out a right hand in his follow through to grasp the ball just inches from the ground. Hugill was given a life on 13 when he was dropped by 'keeper Brooks but the error was not too costly as he added only six more before being caught by Tom Pringle at point off Duncan Snell, bringing an end to a second wicket stand with Yorkshire's Carver, the partnership worth 41 turned out to be the most productive of the innings, which was no doubt a source of frustration for the batting line up from which eight of the top nine would make double figures but none would better Jordan Grose's unbeaten 23 made late on. Snell followed the wicket of Hugill with that of Carver in his next over, Chris Booth taking the catch at slip with the total on 64.

 

Another ten had been added when Charlie Elliot held a catch above his head back-pedalling at mid-on to dismiss Rob Pinder in Tom Pringle's first over and the leg-spinner added the wicket of Oliver Grayson who was struck on the full and given out lbw in his fourth over. The score at that stage was 90-5 and the visitors looked in danger of subsiding but a stand of 30 between skipper Russ Robinson and Ben Gill steadied things somewhat. Robinson made 22 before being bowled by his opposite number Dan Woods and the York captain took a return catch to dismiss Gill as the ball popped up off a leading edge, 133-7 very quickly became 147-9 as Pringle struck twice in an over and would finish with figures of 4-34 from eight overs. The total was bolstered by Grose's late show of defiance striking four consecutive boundaries of Woods, but he was denied the opportunity to inflict any further damage when Matthew Waite returned to the attack and bowled last man Ben Harrison with a full straight ball, nevertheless the final total of 171 was considerably more then had looked likely midway through the innings
The host's lost Duncan Snell with the score on 14 when he was bowled by a ball that clipped the top off his off stump from Mark Fisher, and the same bowler had fellow opener Adam McAuley caught for 32 by Grayson at point but not before the total had reached 47 after nine overs. Seemingly undeterred by the loss of McAuley Matthew Waite struck five fours of the following over from Freddie Collins which effectively removed him from the attack. It signalled the beginning of an onslaught from the Counties young all-rounder who found the boundary with seven of the next 14 balls he faced, his first half-century in York colours coming from 34 balls, the last 44 off just 17. He eventually fell to a catch at long on off Ben Harrison for 66 with the score on 123. Chris Booth was well set by that stage and he continued to steer the hosts towards their target, but when he drove a ball straight to Fisher at extra cover off Carver there was something of a wobble as Tom Brooks and Charlie Elliot came and went in quick succession before Kyle Brockley struck back to back boundaries to seal a tie against Stamford Bridge in the next round with 15 overs still in hand, Matthew Bell remaining unbeaten on 12 at the other end. 

 

 
U15's – Yorkshire Cup finals day at Hunslet Nelson CC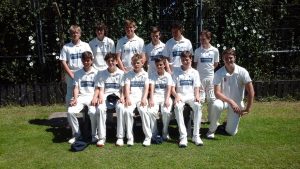 U15's– Yorkshire Cup finals day at Hunslet Nelson CC
Sun 18th June
York U15's were duly crowned County Champions after playing back to back matches on the hottest day of the year at Hunslet Nelson CC, firstly beating Hull Zingari in the semi-final and then defeating Doncaster in the final in sweltering heat.
York 138-7.   Hull Zingari  61 all out
York were invited to bat in the semi-final by Hull Zingari and were given a good platform by both Josh Wood and Charlie Robinson progressing to 38 before Charlie Robinson was bowled for 13. Matty Roberts joined Josh and they took the score to 52 before Josh was bowled for 20. Harvey Gration joined Matty and with the slower bowlers on runs dried up a little with little bounce or pace in the wicket. Harvey Gration quickly adapted his game to push singles and keep the scoreboard ticking over. The score had reached 92 in the 15th over before Matty was out for 14. York then upped the pace with Harvey content to knock singles and let others play big shots with 46 coming from the last 5 overs thanks to Sam backhouse, Olly Tomalin, Elliot Watson, Joe Bates and Dan Raubitschek who played the shot of the match through the covers. York ended on 138-7 from their 20 and were also helped by 31 extras given away by the Zingari bowlers.
York started strongly with Sam Backhouse bowling both openers inside the first 5 overs and Olly Tomalin taking the third wicket in the sixth over with a well-judged caught and bowled leaving Doncaster at 18-3 from six overs.  The score then progressed to 41 before the next wicket fell in the tenth over to Josh Wood. Thereafter wickets fell at regular intervals and were shared by Joe Bates with three from two overs and Dan Raubitschek also with three from two. The only bowler to miss out on a wicket was Harvey Gration. Hull Zingari bowled out for 61 in the 18th over. A very good display in the field in the sweltering heat and the final next up after a tea interval where plenty of fluids where needed.
York v Doncaster Yorkshire U15 cup final
York 133-6.  Doncaster 72 all out
The final started at 5.00 and still the heat was intense, winning the toss York elected to bat knowing that the wicket was becoming slower and slower with less and less bounce and they again were given another fine start by Josh Wood and Charlie Robinson adding 69 in 10 at drinks. The drinks break seemed to galvanise Doncaster as both the bowling and fielding became tighter and the York batters suddenly found scoring much more difficult. Josh Wood was first out for a solid 40 adjudged lbw. Charlie Robinson soon followed for a fine 39 laced with eight fours leaving York at 91-2 from 15 with still some work to do to set a reasonable target. Matty Roberts 12, Harvey Gration 9, Sam Backhouse 13 from 6 balls, Olly Tomalin 6, Elliot Watson 4 and Joe Bates 1 helped York add 42 in the last five overs to set Doncaster 134 to win in 20 overs.
York started very strongly again with both Olly Tomalin and Sam Backhouse bowling out their four overs due to the heat. Both bowled a full and tight length taking two wickets apiece leaving the game almost over after eight overs with Doncaster at 20-4. Sam ending with figures of 2 for 9 from 4 and Olly with 2 for 5 off 4.  York then rotated the bowling around and further wickets being taken by Toby Search with two,  Dan Raubitschek- two and Joe Bates- one. Doncaster bowled out for 72 in 17 overs.
Overall it was a fine allround performance by all in the sweltering heat taking into account they had to play back to back matches.
Grateful thanks to Corby Doeg for acting as 12th man, your team mates do appreciate that, as do both Doc and myself. Thanks both to Alex Wood and Mark Burn for scoring and to all our supporters and Doc for keeping the lads refuelled with his expert advice- which he did not follow himself-substituting water for lager!!
Finally thanks to Hunslet Nelson CC for hosting finals day and providing great teas for all the lads and plentiful drinks whenever needed. Your hospitably was greatly appreciated by all.
Hunters T20 Blast – Group Stage Match Reports
When the draw was made for the Hunters T20 Blast it appeared on paper at least that York had been handed the toughest group from which to try and gain qualification for Finals Day, but a convincing victory in their opening game against Stamford Bridge set up what would ultimately prove to be highly successful day for the Shipton Road hosts.
YCC vs Stamford Bridge
The tone for first the match was set in the opening over when off just the fourth ball of the innings Sam Tennant was run out at the bowler's end Duncan Snell throwing down the stumps from mid-off, and he was on hand two overs later when Max Maciver sent a straight forward catch to him in the same position from the bowling of Oliver Leedham. It was the start of a devastating spell from the tall left arm seamer who picked up a further two wickets in his next over. Ryan McKendry returning to a ground which had seen him produce several fine displays in the shortest form of the game for the home side before his move away struck two boundaries before edging a drive to 'keeper Tom Brooks standing up to the wicket. Visiting skipper Dominic Rhodes was fourth out when a full straight ball breached his defences and quite literally broke the wickets, one of the stumps having to be replaced. Then in the final over of his spell Leedham became only the third bowler to pick up four wickets in an innings in the competition as Josh Cooper having stepped down the wicket took a wild swipe and was caught off the outside edge by Tom Friend at slip. The score at that stage was 36 for 5, and the situation worsened when Stuart Boyle drove a return catch to Tom Pringle in the leg-spinners first over. Mark Tennant and Ricky Robinson mounted something of a recovery and their partnership was by far the most productive of the innings. Tennant who had come in at the fall of the third wicket played a supporting role contributing 10 off 15 balls to a stand worth 46, whilst Robinson adopted the more aggressive approach his 30 off 33 containing three sixes. The score had reached 88 when Robinson having survived twice in the previous over from spinner Daniel Woods was eventually stumped by Brooks standing up at stumps to the medium pace of Charlie Elliot. Tennant departed five balls later when the ball flew up of his top edged and Pringle had to wait an age for the ball to come down and provide him with a second catch of his own bowling. Elliot and Brooks combined for a second time to dismiss Luke Robinson the 'keeper taking a catch of the edge leaving the visitor nine down and the total still in double figures. A boundary from Matt Beckett at least saved his side the ignominy of it ending up that way but only just as with the total now on 101 he was bowled by Elliot who finished with 3-19.
Tom Friend was dropped at slip in the second over having not yet scored and form that point on the batting side never looked back, he and fellow opener Snell saw off the opening pair of Dominic Rhodes and Luke Robinson and were then in a position to take full advantage when the visitors turned to spin. Ryan McKendry was afforded little respect by his former team-mates as his opening over went for 27 which included three consecutive straight sixes from Friend. Max Maciver did not fare much better as he went for 18 this time is was Snell with maximums over square leg and mid wicket as the total reached 83 in just seven overs. Friend made 43 from 19 balls before he was trapped lbw by Josh Cooper but by then the home side required only a further nine runs for victory. Adam Mcauley struck one of the two balls he faced for four, before Snell rounded off a comprehensive victory with two further boundaries that second of which took him to a half-century, made from 35 balls, and secured an opening success for the hosts inside ten overs.
YCC Vs Sheriff Hutton Bridge
York booked their place at Hunters T20 Finals Day and should travel to North Marine Road in early July full of confidence after they wrapped up a second qualifying group victory beating Sheriff Hutton Bridge by 66 runs at Shipton Road.
The hosts chose to bat first and Tom Friend got the innings off to a blistering start with boundaries off the opening four balls, two of them straight sixes over long on. Unfortunately for the largely partisan crowd the show ended too soon when he was bowled for 22 by Mark Fisher at the end of the following over. That brought together Duncan Snell and Adam McAuley who have formed a formidable partnership in the League of late, and that carried over into the shorter format as they added 80 from 10 overs to put York in a dominant position, although had Snell been caught on the square leg boundary when on 8 and the score on 40 it might have been a very different story. The left-hander made the most of that piece of a good fortune and was starting to play a more expansive innings having just lifted his strike rate to above a run a ball when he was out for 40, Rob Pinder covering the distance between long off to mid on at speed to take the catch from the bowling of skipper Russ Robinson. When McAuley cut a ball from Ben Harrison to Mark Fisher at point in the following over having made 38 off 31 balls the total was 110 for 3 with a little under seven overs remaining. Charlie Elliot scored 15 from 14 balls before he swung across the line of a ball from Robinson and was given out lbw and Matthew Bell finished unbeaten on 10, but the latter part of York's innings was underpinned by faultless display from Peter McDermott who scored off every one of the 17 balls he faced to finish unbeaten on 34 including a six and three fours. It meant Sheriff Hutton Bridge would need to score 169 to win, but crucially they would need to do it by the 15th over if they were to deny York a spot in the semi-finals.
Louis Foxton and Freddie Collins made a positive start scoring 31 from the first four overs but then Foxton holed out to McDermott at mid off, gifting Tom Friend the first of two wickets it sparked a collapse. Leedham added to his four wickets in the day's earlier match thanks to a spectacular reflex catch by Tom Spearman who stuck out a hand low to his left at cover to catch Oliver Grayson's full blooded drive, otherwise Adam McAuley's diving effort on the run at midwicket to dismiss Rob Pinder two overs later might easily have been judged the catch of the day. The score had reached 57 by the end of the ninth over when Collins having reached 26 spooned the innings fourth catch to Leedham at square leg off the bowling of captain Daniel Woods. Ben Gill was the unfortunate victim when the York skipper deflected opposite number Russ Robinson's drive onto the stumps in his follow through with the non-striker out of his ground, and when Robinson himself was stumped by Tom Brooks off Tom Pringle the game was effectively rendered meaningless with the total on 87 for 6 off 15 overs. Regardless of the fact there was no let up in the pressure from the bowling side with Charlie Elliot picking up two wickets in an over courtesy of Pringle's catch at point to dismiss Mark Fisher and solid glove work by Brooks to stump Jordan Grose, neither batsmen making double figures, in fact outside the top five only Connor Campbell did so his 20 off 10 balls included two sixes both off young leg-spinner Tom Spearman who undeterred wrapped up the innings with the final two wickets both Alex Ibbotson and Ben Harrison given out lbw the second of those coming off the penultimate ball of the 20th over with the score on 119.
The draw which followed the conclusion handed York a semi-final against local rivals Acomb caused something of an upset ousting Driffield Town from the competition. The other semi-final will be between Yorkshire Academy and Scarborough who knocked out Scarborough.
York Vs Scarborough – Match Report
A failure to apply sufficient covers and dropped catches were both contributory factors as York missed the opportunity to take maximum points from their match at home to Scarborough, although a dazzling innings from Tom Friend provided a bright spot on an otherwise grey day at Shipton Road which saw the hosts retain the lead in the Hunters ECB Yorkshire Premier League North.
Dampness in the approaches to the wicket lead to the start being delayed by a couple of hours which meant when play got under way the match had been reduced to 42 overs a side. Kyle Brockley who bowled tightly without much reward the previous week at Easingwold was again on the mark and this time it paid dividends when visiting skipper Neil Elvidge, having chosen to bat first, pulled a ball in the Australian's opening over straight to Adam McAuley at square leg. Oliver Stephenson holed out to Matthew Bell at third man, and when former captain Ben Elvidge was caught by Tom Friend at slip Brockley had figures of 3-17 and the visitors were 37 for 3. At the other end things did not go as well for new ball partner Oliver Leedham who had opener Alex Carrie dropped off his bowling twice by the same stage. Theo Smith never looked settled and having failed to score off his first 20 balls was run out in farcical circumstances, having pushed the ball to cover a miss field tempted the batsmen in to a run which they safely aborted until a wayward throw to the bowlers end persuaded them to try again but when Smith halfway down the wicket was sent back for a second time he failed to beat Woods throw to the 'keeper Brooks. Carrie was dismissed when having been dropped for the third time in earlier in the same over he chopped a ball from Friend onto his stumps having made 40 out of a total of 69. The same bowler claimed a second wicket when Darren Mills picked out Peter McDermott at mid-off for 11 to leave the visitors in deep trouble on 85 for six. The highest partnership of the innings which realised just 25 runs came from the seventh wicket pair of overseas signing Bradley Scott and wicket-keeper Luke Tinsley. The Australian made 23 before being caught at mid-on by Woods off Tom Pringle and the leg-spinner took two wickets in an over when Tom Precious was stumped and Kristian Wilkinson scuffed a drive to Friend at slip. It left the hosts four overs to search for the vital final wicket but Tinsley and Elliot Cooper were able to shut up shop effectively denying York the possibility of a full ten points given they would only be chasing 128 for victory and it left the hosts contemplating what might have been had the innings not been cut short from the off.
The wicket of Duncan Snell was the only one to fall in a reply that lasted less than 22 overs, the in-form opener was given out caught by the 'keeper down the leg side off Bradley Scott for seven although the normally impassive left-handers reaction indicated he may have been unfortunate. His departure offered an opportunity for youngster Adam McAuley to continue the rich vein currently being enjoyed by player and spectators alike an unbeaten 27 taking him to 259 runs at an averaging of 86.33 since joining the club at the start of the season, but in this latest innings he was reduced simply to supporting a role with Tom Friend producing the kind of innings last seen by him in the Black Sheep Final at the end of 2016, the last 53 of his 88 coming of just 27 balls in an innings which included 13 fours and two sixes.
York CC Vs Chester-Le-Street CC – NKO Match Report
York will travel to the north-east to take on cup holders South Northumberland in the regional final of the Royal London Club Championship after they were convincing semi-final winners against Chester-le-Street by 88 runs. The third meeting in the last four years was a high scoring affair with well over 500 runs being scored in just less than 80 overs. It was the first meeting between the two sides at Shipton Road and the nature of the victory went some way to exorcising the memory of a heavy defeat suffered at the hands of the visitors when the sides last met.

 
Duncan Snell's rich vein of form continued with the opener scoring his second century of the season, and Adam McAuley passed fifty for the third time in his six innings since joining the club. The pair recorded their second three figure partnership of the weekend adding 140 to the previous days' unbeaten 107 against Easingwold, but not before Tom Friend had scored a quick-fire 30 off 34 balls to give York the early advantage. His departure lbw to Adam Hickey came towards the end of an opening powerplay of 15 overs which yielded 64 runs and brought together the hosts' in form pair. Their partnership which lasted 21 overs contained 17 boundaries, McAuley striking nine fours whilst Snell's contribution to the tally included three sixes, two coming in the same over bowled by Quentin Hughes, the former captain was one of five different bowlers used from the city end during those middle overs, the constant necessity for changes a measure of the batsmen's dominance.

 

The breakthrough for the fielding side finally came courtesy of a well taken catch by Adam Hickey running in from the long-off boundary to dismiss McAuley for 58. Snell had reached 89 by that stage and in a stand of 64 from seven overs with Chris Booth he went to his hundred off 128 balls, his celebration taking the form of three sixes in the following over, Kyle Davis the unfortunate bowler whose two overs cost 30 runs, though his figures were only marginally the worst of an unflattering set for the visitors. Booth went lbw to Andrew Bell for 24 as York lost three wickets in the chase for more runs to add to their total of 260 as the innings entered the final five overs. Stephen Cantwell took the other two in this space of four balls, Snell was caught behind for 132 having hit 11 fours and 4 sixes off 132 balls, and in stark contrast Charlie Elliot faced only two before being bowled without scoring. Tom Pringle with 14 off 8 balls and Peter McDermott 21 off 13 then pushed the total up to 308 by the end of the 45 overs.
Kyle Davis and George Harrison got the reply off to a flying start, Davis in particular seemingly able to final the boundary at will as the total raced to 78 from the first ten overs, and the rate slowed only marginally once Harrison (26) was caught by Friend at mid-off as Woods came into the attack. A further 42 were added in the next five overs before indecision cost the visitors the key wicket of Davis, having pushed the ball to Booth at cover he set off to run but was sent back and failed to make his ground, his 62 from 45 coming from a total of 120 for 2. The required rate was around six an over at that point and it hardly waived from that for the remainder of the innings. What proved the batting sides undoing was the regular loss of wickets, following the departure of Davis no partnership lasted beyond four overs. Peter McDermott was called on to bowl for the first time since joining the club and came away with figures of two for 29 from five overs and Tom Spearman also finished with two wickets at a cost of 40 although his figures were somewhat distorted by Andrew Bell who chanced his arm, with the game over as a contest taking 17 off what would be the young leg-spinners final over as Tom Pringle wrapped up the innings in the next to produce the best return with 3 for 36. The only blemish on what had been a sound performance in the field in the face excellent batting conditions was the concession of 23 wides from less than 34 overs bowled a situation which will need to be addressed if they are to progress further in the competition.
Easingwold CC Vs York CC – Match Report
The difference between top and bottom of the Hunters ECB Yorkshire Premier League North was clear to see at Back Lane where visitors and competition leaders York scored a comprehensive nine wicket win over an Easingwold side currently propping up the table with just two points to show from their opening eight matches. For the second game in succession Daniel Woods' team travelled to one of the newly promoted sides and came away with maximum points, a hat-trick from Tom Pringle provided the matches main talking point whilst in-form batsmen Duncan Snell and Adam McAuley were once again in the runs.
The hosts having chosen to bat first lost opener Hamid Khan bowled by Tom Friend without scoring in the third over. Newly appointed captain Kyle Waite joined Stephen Piercy, their partnership lasting seven overs before the latter was beaten for pace by Kyle Brockley and had his stumps knocked back having made 13 in a total of 28. Within the first hour Waite had joined his openers back in the pavilion he too was bowled, on this occasion failing to make contact with an expansive drive aimed at a ball from Duncan Snell. Guyanese import Aubrey Towler showed glimpses of typically West Indian stroke play, but his was an all too brief stay at the crease as far as the home support was concerned his innings of 27 was ended when he got too far underneath a delivery from Daniel Woods, Peter McDermott having plenty of time to get under the catch at mid wicket. That came with the total on 65 and from that point on only the experienced Paul Skilbeck was able to counter probing spells from the visitors spin pairing of Woods and Pringle.

 

Tom Wilson faced 28 balls for his five runs then drove the ball straight back at Woods who took a good catch diving away to the left in his follow through, and the York captain picked up a second wicket in his following over when Chris Booth moved sharply from slip to hold a top edged sweep off Dave Greenlay to make the total 78 for 6. Zac Wilson, the younger of two brothers in the Easingwold line-up struck a defiant note launching Pringle over mid-wicket for six heralding the start of an extraordinary passage of play. He pushed well forward to the next ball and was struck on the full resulting in his dismissal lbw for 10. Josh Sargeant's forward defensive stroke was more tentative but the result was the same, and when the next delivery proved to be a carbon copy Graham Knott had become the third victim of a hat-trick of lbw's. It was the second hat-trick by a York bowler in the space of a fortnight, Woods having taken his, the first in the competition's brief history, in the defeat of Woodhouse Grange. The drama didn't end there as last man Joshua Summerscales survived a vociferous appeal in very similar circumstances to the previous two deliveries but that one was turned down. A couple of lapses in the field late on could not detract what had to that point been a well drilled performance in the field. Slikbeck was dropped twice in the space of three overs and finished unbeaten with the innings top score of 28, but the spurned chances didn't prove costly as Woods trapped Summerscales to end the innings with the total on 116.
The home sides' only success in the field came in the third over when Tom Friend, having made nine, pushed forward at a ball from Graham Knott and wicket-keeper Stephen Piercy held a regulation edge behind the stumps. Adam McAuley, who had missed the opening few overs of the match having been caught up in traffic following an early morning exam, announced his arrival at the crease with back-to-back boundaries off the same bowler and that set the tone for the remainder of the match. With such a limited target to chase both McAuley and his partner Snell could afford to be selective and the pair made steady progress against the new ball. The scoring rate moved up a gear when Snell launched Summerscales for consecutive straight sixes into the cars parked alongside the pavilion, and followed them with a four down through long leg. McAuley eventually finish 42 not out to add to his unbeaten 73 against Clifton Alliance last time out, but the major honours went to his partner Snell who passed 50 for the fourth time in nine innings, reaching this latest half-century with his third straight six of the match, and the eighth four of his 68 ball innings provided the winning runs taking him to 63, the target reached in the 21st over at a little after 4.15pm.
Clifton Alliance Vs York – Match Report
The first top flight meeting with their neighbours produced a one sided encounter as York having made the short trip across to Clifton Alliance came away with maximum points and victory by 147 runs, an outcome sufficient for them to replace Harrogate at the top of the Hunters ECB Yorkshire Premier League table, the former leaders having lost at Driffield Town.
York were asked to bat in overcast conditions Jack Leaning and Duncan Snell renewing their partnership at the top of the order. Scott Hopkinson opened the bowling with Sam Grant and whilst the latter achieved a measure of control his captain was expensive 33 runs coming from his five overs to gift the visitors an early boost. Neither batsman looked troubled as they built the sides highest opening stand of the season, 102 coming from 23.2 overs, Leaning having taken more of the strike reaching his fifty, off 81 balls, at the same point. The applause for both had only just subsided by the time the next ball from David Friend thudded into his pads resulting in a successful lbw appeal. Adam McAuley replaced Leaning and the young right-hander, who has impressed with his early performances had time to settle whilst Snell looked to up the tempo. Sixes off both Friend and spinner Tom Brown signalled his intent, and the prolific left-hander with 76 to his name looked to be heading for a second century of the season until ,searching for a quick single, a sharp piece of fielding by Jack Beath at cover left him stranded and unable to re-make his ground. Despite that misfortune the visitors were still in a strong position on 153-2 heading into the last 15 overs. That final phase of the innings brought a further 91 runs, 59 coming from the bat of McAuley who scored all round the wicket showing an extensive repertoire of strokes to end unbeaten on 73 off 72 balls, he was partnered throughout the closing stages by Matthew Bell who contributed 31 to a third wicket stand of 91 to make the final total 244 from 50 overs. There was little to cheer for the home side who's attack lacked any real penetration, the only positive was the performance of youngster Brown who bowled with a maturity beyond his 14 years in an unbroken 13 over spell conceding 50 runs at a rate well below his more senior counterparts.

 
The hosts lost both openers caught by 'keeper Tom Brooks before the total had reached double figures. Overseas signing Jack Beath was squared up by the second balls of the innings from Oli Leedham and Greg Drewery edged a ball down the leg-side off Kyle Brockley. Skipper Scott Hopkinson was joined at the crease by John Gilham and the pair put the brakes on the wicket taking, at least on a temporary basis. A third wicket partnership of 26 would turn out to be the highest in a batting display which somewhat mirrored their earlier disappointing performance with the ball. They were separated when Oliver Leedham got down well

 

to a low catch at cover to end Gilham's innings

 

for 11 in Brockley's final over, the Australian producing his best spell since joining the club finishing with two for nine from seven overs. He was replaced at the tennis court end by Charlie Elliot and it proved to be the change which heralded the end of the contest, such as it had been.

 

Already having trapped Hayden Bradley lbw for nought two overs previously the seamer then captured the key wicket of Hopkinson whose leg stump was knocked out by a ball which cut back in. The 'Alliance captain contributed 29 and when his replacement Simon Williams was lbw the following ball the total was 59 for six. Paul Walton's innings was short but eventful , either side of striking Leaning for six he survived numerous appeals for stumpings but failed to heed the warning shuffling forward once too often Brooks finally getting his man and Elliot had 4-12. The next two wickets fell to spin and both were courtesy of excellent catches low down, McAuley held on at cover to dismiss Ryan Pertington off Leaning and Nick Kay dived forward at point to give Dan Woods the wicket of Dave Friend neither batsman making double figures. That left the final pair at the crease Sam Grant (21no), who had been there since the fall of the fourth wicket, and teenager Brown. Grant's plan appeared to be to shield the youngster from strike however this proved flawed when he called Brown through for a single from the final ball of the 35th over, but having hit the ball straight to Leedham at mid-off he gave the youngster little chance of ever making his ground, Brooks removal of the bails the final act of the match, the home side having made just 97.
York Vs Stamford Bridge – Match Report
York made it three from three beating Stamford Bridge at Shipton Road by 35 runs. In almost a carbon copy of last week's success over Sheriff Hutton Bridge it was built around an exceptional individual batting effort this time from Adam McAuley, before spin saw the hosts home from a position when defeat looked the more likely outcome.
The home side were bolstered by the inclusion of Yorkshire's Jack Leaning who opened the innings with an all too brief cameo of 29 from 27 balls which included five fours. His departure caught at slip off Dominic Rhodes was swiftly followed by fellow opener Duncan Snell who lacked his usual fluency making just two before top edging a pull shot to Rhodes at midwicket off the bowling of Luke Robinson. Alex Collins and Peter McDermott failed to reach double figures the visitors new ball pair each adding to their wicket tally, and when Joe Ashdown was trapped lbw for 11 just after drinks the home side found themselves 99 for 5, McAuley having made a chanceless 33 by that stage looked unflappable despite the match situation. Robinson finished with figures of 3-45 from his 13 overs and was replaced by former York all-rounder Ryan McKendry, making his first return to Shipton Road since leaving over the winter. The visitors opting for spin at both ends had already brought on Max Maciver but neither was allowed to settle Charlie Elliot partnering McAuley in a stand of 47 for the sixth wicket, during which the young right-hander went to a half-century made off 71 balls, bringing their side back in to the game. Elliot perished to a catch at deep mid-wicket by Dominic Sinclair off Maciver for 16 and the Jamaican was on hand at long on when Kyle Brockley presented McKendry with his first wicket four overs later. The retuning spinner claimed a second wicket when Tom Pringle was trapped lbw and when a mix up in calling saw McAuley run out for 78 the score was 182 for 9, and the visitors could rightly feel they had done well to contain the innings but the last wicket pair of Oliver Leedham, with 16 off 15 balls, and Daniel Woods, 23 off 15, took back much of the momentum with a stand of 37 off 21 balls. Woods was particularly harsh on McKendry taking 17 off his final over.
Leedham, no doubt buoyed by his effort with the bat picked up two early wickets, knocking out Mciver's off stump and then capturing the wicket of Mark Tennant courtesy of an outstanding catch by wicket-keeper Ashdown diving across in front of first slip to take the catch just inches from the ground. Brockley then produced a good ball to bowl McKendry and the visitors teetered on 39 for 3. They fought back strongly through veteran left-hander Stuart Boyle, who shared stands of 61 with Sinclair and 59 with Rhodes. 'Bridge's overseas signing returning for his second season made 24 before firing a low return catch to give Pringle the first of five wickets, the leg spinner taking his second when Boyle picked out Leaning at deep mid-wicket after making 62, prior to which the visitors had looked well set needing 61 off 13 overs with six wickets in hand. The opener's departure signalled the beginning of the end two wickets in an over from Leaning courtesy of an Ashdown stumping and the reliable Collins at slip put their opponents on the back foot, then Pringle took wickets in three consecutive overs which vitally included that of the dangerous Rhodes, who represented the remaining threat with 44 from 47 balls, his decision to step well across to the off side proving his downfall the ball spearing in to his exposed stumps,

 

the trapping of opposing skipper Beckett was the final act as Pringle fished with

 

5-45, the visitors having lost their last six wickets for just 25 runs.
York Vs Sheriff Hutton Bridge – Match Report
SNELL AND WOODS INSPIRE YORK VICTORY
York sit atop of the Hunters ECB Yorkshire Premier League North table after a 31 run victory over Sheriff Hutton Bridge at Shipton Road left them with the competitions only 100% record after two rounds of matches. A century from Duncan Snell and an inspirational spell which saw skipper Dan Woods finish with figures of 6-36 secured victory in a game that for large parts looked to be under the control of the visitors.
It was a baptism of fire for teenage opener Finlay Bean whose debut innings was ended by a ball from the visitors overseas signing, from Australian BBL side Hobart Hurricanes, Sam Rainbird, that came back to clip the top of off stump in the fourth over, the youngster having made just 6. The hosts other debutant Peter McDermott fared little better and although his 45 minute vigil yielded only 8 runs his partnership with Snell meant York had reached 61 before he was bowled by Karl Carver. The Yorkshire left-arm spinner also accounted for Tom Friend in his next over courtesy of a straight forward catch at mid-on from Daniel Cass. A fourth wicket stand of 44 with Alex Collins saw Snell pass 50 for the 11th time in his last 15 innings in the competition. Collins had made 17 and looked in control until a checked drive went straight into the hands of Rob Pinder at mid-off to gift Carver his third wicket. Rainbird replaced the spinner, who finished with figures of 3-44 from 13 overs, and immediately struck having Charlie Elliot caught by a diving Ben Gill behind the stumps to leave the total at 152-5. Snell reached his century off 128 balls including 16 fours and a six before two wickets from Freddie Collins added to the home sides' woes Tom Brooks and Kyle Brockley both departing for single figure scores, at which point the opener had contributed 107 of the sides' total of 185. Tom Pringle struck an invaluable 24 off 20 balls in the closing overs and Snell contributed a further 21 before jamming down on a yorker from Rainbird (3-45) only for the ball to squeeze through onto the base of the stumps. That all meant the visitors would need to score237 if they were to record a first victory against the hosts having lost both league meetings, and a national cup tie between the sides last season.
Their reply began poorly when Louis Foxton was caught down the leg-side by Brooks off Brockley in the Australian's opening over, but thereafter Mark Fisher and Rob Pinder looked increasingly comfortable aided by some wayward bowling as 25 extras contributed to the total of 71 before the next wicket fell, Snell taking the catch as Fisher chipped a ball in Woods first over to mid-off. The batting side exerted further pressure through Oliver Grayson and when Pinder went to a half-century their side looked well placed needing 106 from the final 20 overs with eight wickets in hand. The re-introduction of Woods at that point turned the game as York's skipper took a wicket in each of his next three overs including both Pinder, caught on the run by Pringle at deep mid-wicket for 56, and Grayson, stumped by Brooks for 34 before Tom Friend held a sharp chance at slip off Rainbird's full blooded drive as 133-2 became 150-5. Pringle was soon in the action again this time trapping Carver, who briefly threatened to take back the initiative with a run a ball 20, lbw as he played back to a ball that straightened. Wicket-keeper Brooks, who missed the pre-season games and the season opener, collected the third of four victims, stumping opposite number Gill off the leg-spinner who would finish the match with 3-57 when last man Cass was also out lbw. However that was not until Woods had claimed two further wickets to produce the best figures by a York bowler in the Premier Leagues since he took 9-38 against Appleby Frodingham back in 2013.
Driffield Town CC Vs York CC – Match Report
York's opening day victory at Driffield came as a result of an excellent display of seam bowling from Charlie Elliot and Oliver Leedham. Elliot exploited the favourable conditions to great effect taking 4-16 from 13 overs, whilst Leedham making only his second appearance in the competition, picked up three key wickets including the hosts overseas signing Afaq Rahim and skipper Danny Broumpton.
Overseas signing Kyle Brockley, just two balls into his debut for the visitors, found the outside edge of James Pick's bat and the ball flew straight into the hands of Dan Woods at first slip, but the Australian was unable maintain control and went for 28 runs from his three overs. That was in contrast to Matthew Waite, the former Yorkshire Academy skipper and close season signing also making his debut conceding just 14 from his opening spell of six overs which could have ended with a wicket had he been able to hold on to a sharp return catch in his final over. The turning point of the match came in the 11th over with the introduction of Leedham and the total on 56-1 his first ball trapping Driffield's Pakistani opener lbw for 23 and four overs later Elliot knocked back Ben Kohler-Cadmore's (32) middle stump.
With two new batsmen at the crease the scoring rate slowed just 23 runs coming from the next nine overs. Elliot could have had Casey Rudd caught at slip but the miss did not prove costly with Leedham bowling the same batsman soon after with the total on 88. Broumpton fell to the same mode of dismissal without scoring and his departure sparked a collapse as four wickets fell in as many overs. Elliot picked up the key wicket of Sam Drury , the reaction of the fielding side to Jack Leaning's excellent catch at slip as the ball flew to him at shoulder height left little doubt that they were delighted to see a batsmen who has often tormented them heading back to the pavilion with only 28 to his name. Nick Hardgrave was trapped lbw off the next ball and Mark Goddard became the fourth batsman dismissed without scoring when 'keeper Joe Ashdown held a feint edge standing up to the wicket and he was on hand to stump Jamie Hopper off Tom Pringle as seam gave way to spin for the closing overs. Visiting skipper picked up the final wicket of the innings though most of the credit for the dismissal should go to Leedham who made good ground before taking a tumbling catch at deep square leg to end Harry Burnhill's stubborn resistance of 14 from 36 balls. That left York chasing 122 if they were to record back to back successes over the same opponents having closed the 2016 campaign with a 182 run victory at the same venue.
That match featured a League record first wicket partnership of 205 between Duncan Snell and Jack Leaning, and the pair appeared to pick up where they had left off. Leaning temporarily free from his county commitments, due to the availability of Yorkshire's England contracted players, began cautiously contributing just 16 to the first 50 runs scored. His opening partner benefited from an abundance of leg side deliveries to keep the score moving and when his sixth boundary took his total to 36 he became the first batsman to reach 1000 runs in the fledgling Hunters ECB Premier League North. A full ball from Harry Burnhill denied the left-hander a half-century bowling him for 42 with the total on 70. Waite replaced Snell and him and Leaning set about bringing a swift end to the contest with 50 coming of the next six overs this included four consecutive boundaries to Waite off Burnhill as he raced to 25 off 15 balls. It appeared a fifth four had sealed victory only for it to pull up inside the rope with the batsmen having only completed a single, the resulting confusion allowing Leaning to strike the winning runs and in doing so bring up his half-century.